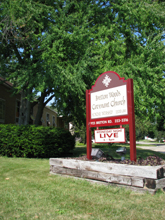 Worship Gatherings:
10:00 am each Sunday at 925 Bretton Rd, Lansing, MI. Also streaming below (if the stream doesn't start automatically, try refreshing the page) or on Facebook Live
Neighborhood Unity Dinner:
The Last Wednesday of each month (Jan-Oct), we offer a free meal to everyone in the community. 5pm-8pm. Come and eat (or come and grab dinner to go).

Weekly Bible Studies:
Experiencing God 2.0 (Tuesdays 6pm & Wednesdays 1pm)

1 Timothy Study (Thursdays 10am)
Welcome! Bretton Woods is a church family striving, by the grace of Christ, to become a clearer reflection of the kingdom of God. We long to be a healthy (pursuing Christ), missional (pursuing Christ's priorities in the world) church within the greater Lansing area, and we are part of the Great Lakes Conference of the Evangelical Covenant Church. Our mission, should you choose to accept it, is simple:
Love God. Be the church. Bless the world.